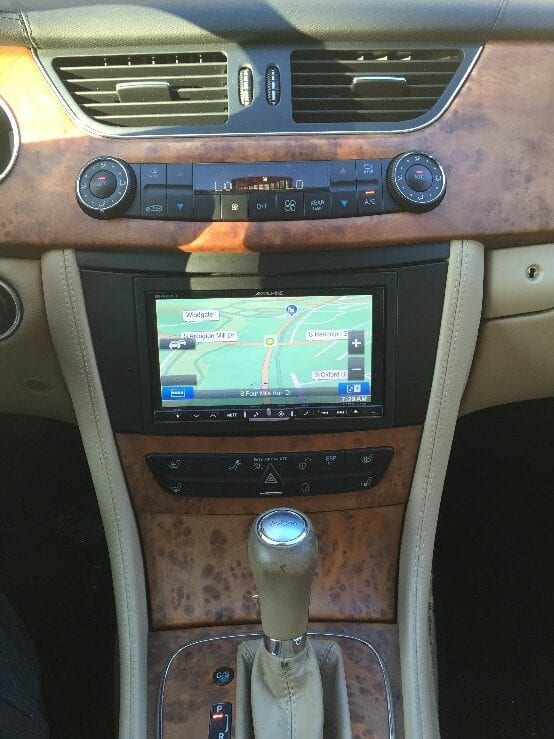 IN-DASH NAVIGATION SYSTEMS STILL PROVIDE THE MOST ACCURATE DATA
If you are like most people, you have used the navigation that comes for free on your smartphone – and you might have found that the free software can sometimes let you down. You are on your way to a time-sensitive gathering, meeting, dinner, etc., only to find your phone says, "You have arrived at your destination" but you are not at the right place. Fortunately, the navigation software in our installed units is more accurate, so it gets you to the right address on the first try.
INSTALLED SYSTEMS THAT INTEGRATE SEAMLESSLY WITH YOUR VEHICLE
Car Spa specializes in installing solutions that work and perform like factory-installed equipment. Maybe you have an older Mercedes that is a great car but is lacking in technology? Our team can install a navigation unit, along with popular add-ons such as Bluetooth, backup cameras, satellite radio, and USB ports – your vehicle will look like it came with a factory upgrade when we are finished. Does your vehicle have steering wheel-mounted audio controls? We will integrate them with the new unit. Does it have a factory-installed backup camera? Our staff can integrate it with your new unit.
A BETTER SYSTEM PUTS YOU AT EASE WHILE DRIVING
If you decide to go with an integrated navigation system from us, you will experience a lower level of stress while driving. The screen is bigger than the one on your phone and we place it high up in the dash, making it easy to see. When you come upon a turn, the stereo system is muted and it announces the turn.  After you complete the turn, the music ramps back up. This way, you never miss a turn because you were talking or had your music blaring. You also get incredible accuracy since our systems use external GPS antennas that allow for more accuracy in city driving. This is especially helpful when you have multiple turns in close proximity to each other.
CARPLAY AND ANDROID AUTO INTEGRATION
If you own an iPhone or an Android phone, some of the hottest technology to come down the pike are Apple's CarPlay and Google's Android Auto. These are software that allow you to harness the power of your smartphone safely while driving. Imagine making calls, sending or receiving text messages, playing music, setting reminders, and using the phone's navigation almost exclusively via voice control? All of it will be displayed on the new touchscreen unit we install in your dash. We have solutions that include our accurate, embedded navigation and models that rely on the phone's GPS, giving you the option of one or both.